---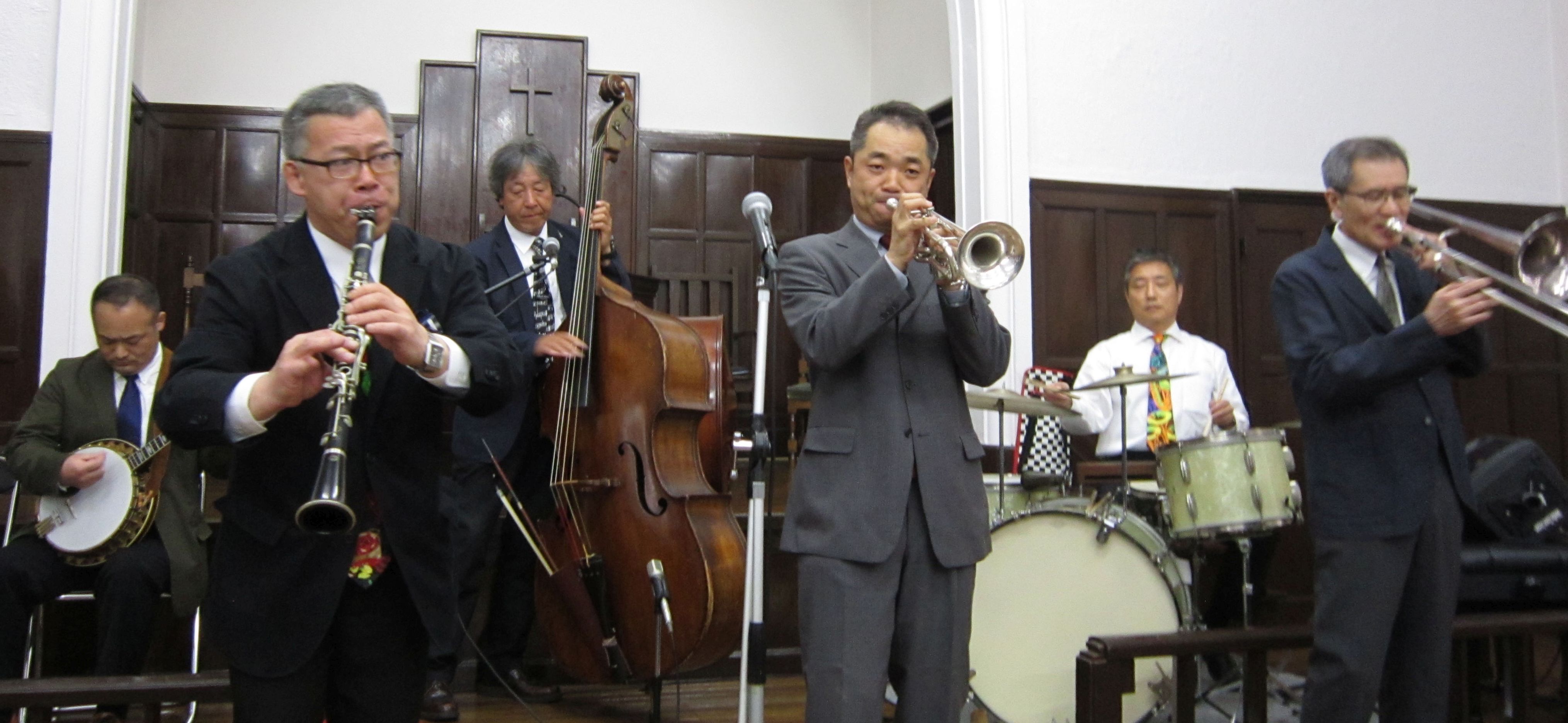 Members

Yasuo Takenaka

(leader,trombone)

Tadanori Matsunaga

(trumpet)

Shoji Kobayashi

(clarinet)

Ryosei Matsumoto

(piano)

Jyunichi Kawai

(banjo)

Toshiya Higuchi

(double bass)

Hidemitsu Kurata

(banjo)

Yuji Mizokawa

(drums)

Kouji Muro

(drums)
---
Formed in Osaka, Japan in 1986.
This 7 piece all-Japanese band has made it their mission to bring Traditional New Orleans Jazz to Japan. They are successful at it too, as their touring scehdule has them performing in venues across Japan.
A few other career highlights include: performing at Breda in Holland in 1997, being invited to play at a Jazz Festival at Gotenburg in Sweden in 1995, and perhaps their greatest honor, performing in New Orleans Citizenship in 1989.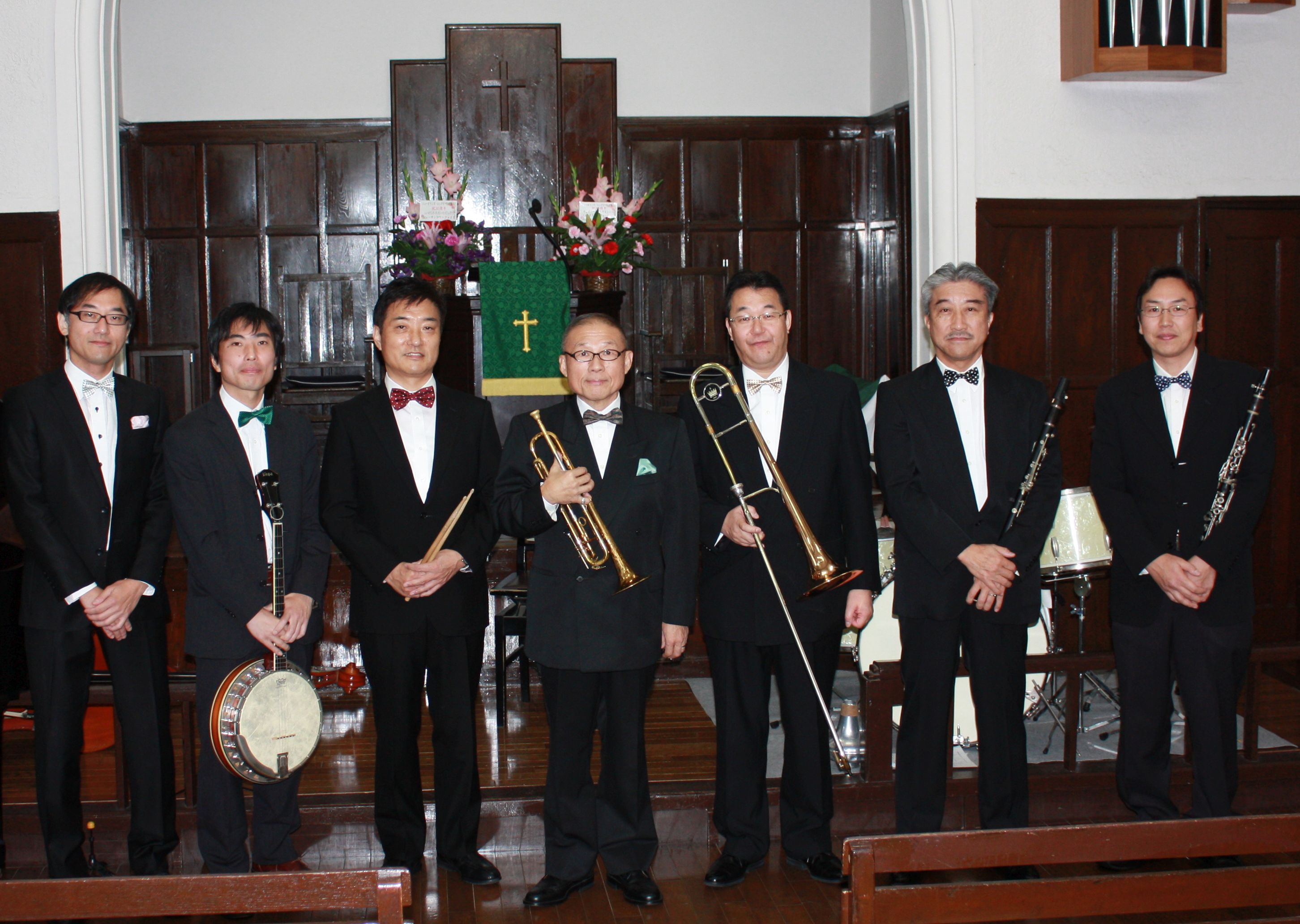 Members
Norikazu Ikemoto (trumpet, leader)
Yoichi Yamada (trombone)
Takahide Yasuda (clarinet)
Takane Shiraki (banjo)
Soichiro Wakimoto (double bass)
Fumihiro Yanase (drums)
Yuki Kurata (piano)
Akiyo Kazama (clarinet-senior member)
---
Started in 1993, and have been mainly playing ragtime, classic jazz, and American old standard numbers from the beginning of 1900 to 1940s. Toured in the States, in 1997(Purdue Salty Dogs Reunion), from 2000 to 2003 (Arbors March Of Jazz Festival), and had a great favorable reception from the jazz lovers in America. Have been playing occasionally at Kobe Jazz Street, All Japan Dixieland Jazz Festival, Kobe Shushin-kan, Rokkosan Hotel,etc. Released six CD's up to today.
Members
Michiko "Riko" Ogawa (piano & vocal) www.riko-ogawa.net
See "Profile" page under her website.
"Nobby" or, "Pops" Ishida (double bass)
Started playing the trumpet with a brass band in his junior high school. Studied the double bass and played with a modern jazz group of the Kansei Gakuin University in Kobe 1961-65. Joined the New Orleans Rascals in 1965 and learned traditional jazz string and tuba bass. Honored to receive late Pops Foster's bass as well as the name "Pops" from his widow, Alma, who was very much impressed with Nobby's slapping play in 1971. Playing regularly with the New Orleans Rascals and the Yo Kimura Trio. Received the Honarary Citizenship of New Orleans in 1966.
Yoichi "Yo" Kimura (leader, drums & vocal)
Started listening to jazz on the Radio (Far East Net-work, Tokyo), and records at the age of 10. Began self taught study of drums by Gene Krupa's Method Of Jazz Drumming at the age of 18, and learned traditional jazz by listening to records of Baby Dodds, Zutty Singleton, Joe Watkins, etc. Played with the Waseda University New Orleans Jazz Club Band in Tokyo 1957-61, and has been a drummer and a vocalist of the New Orleans Rascals since 1961. In the years of 1965-67, played the drums with the Campus Salty Dogs at Purdue University, Indiana. Received the Honarary Citizenship of New Orleans in 1966.
CDs
| | | | |
| --- | --- | --- | --- |
| | | | |
| MY IDEAL | East Of The Sun | FINGER BUSTER | Caprice Rag |
| YSJ-CD003 | YSJ-CD004 | YSJ-CD005 | YSJ-CD006 |
Yo Kimura's vocal CD "What a Wonderful 'classic jazz' World"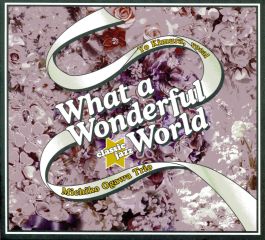 A Pretty Girl Is Like A Melody
Easter Parade
Always
Blue Skies
White Christmas
All By Myself
Too Young
Alice Blue Gown
What Is There To Say
Under A Blanket Of Blue
What A Friend We Have In Jesus
You'll Never Know
Nobody Knows You When You're Down & Out
I'm In The Mood For Love
Sweet Sue, Just You
Golden Earrings
What A Wonderful World
Yo Kimura(vocal: 1-15), Riko Ogawa(vocal: 16), Yo & Riko(vocals: 17)
Accompaned by Michiko Ogawa Trio: Riko Ogawa(piano), Masato Kobayashi(bass), and Junji "Oji" Kimura(drums)
Yo Kimura's vocal CD "My Favorite Jazz Vocals"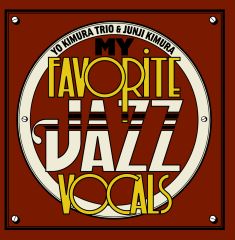 A Pretty Girl Is Like A Melody
Till There Was You
Do You Know What It Means To Miss New Orleans
For All We know
When You Wish Upon A Star
Mona Lisa
Star Dust
My Buddy
Three Little Words
Over The Rainbow
Goodnight My Love
You Took Advantage Of Me
Amazing Grace
What A Wonderful World
I'll Be Seeing You
Yo Kimura(vocal: 1-11), Riko Ogawa(vocal: 12-13), Yo & Riko(vocals: 14-15), Michiko Ogawa(piano), Nobuo Ishida(bass), and Junji "Oji" Kimura(drums)
Yoichi and TonTonís vocal CD "In Collaboration"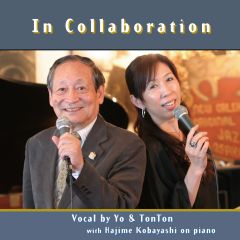 Home*
Blue Turning Grey Over You *
I'm Crazy 'Bout My Baby *
I'm Through With Love **
As Long As I Live **
The Same Old Love **
It Could Happen To You **
Keepin' Out Of Mischief Now *
Indian Summer *
I've Got A Feelin' I'm Fallin' *
When I Grow Too Old To Dream *
My Man **
A Cottage For Sale **
You Brought A New Kind Of Love **
You Were Meant For Me **
Yo Kimura(vocal)*, TonTon(vocal)**, Hajime Kobayashi(piano), Masayo Hirota(double bass), and Junji Kimura(drums)* or Yo Kimura(drums)**
2,000yen per a CD, a postage is required in addition to this price. Click here to know details by e-mail
---

From Hyogo Prefecture. Tonton sings from traditional jazz to swing jazz. Her parents manage a jazz bar "New Suntory 5" in Osaka and she was brought up in an environment where she could have experienced real live jazz music from all over the world since her childhood. During that time, she was influenced by Yoichi Kimura, a vocalist and drumer of the New Orleans Rascals, and she began to develop a foundation as a jazz singer, and naturally became sensitive to jazz music, especially from New Orleans Jazz to swing jazz. She sings not merely the masterpieces of the good old days, but also the popular jazz tunes in Japan today. She especially takes pride in maintaining the original melodies.
Personal History

1996: Grand Prix Of Vocal Section, in Tokyo Asakusa Jazz Contest. Performed in the Manly Jazz Festival, in Australia with the Tokyo Metropolitan Government BigBand, "Swing Beats".
1997: Performed in the Ghent Jazz Festival, in Belgium during the European concert tour with The Royal Flash Jazz Band from Kobe.
2006: Released her first CD "Nice 'N' Easy".
She also performs in Kobe, Shinjuku, Niigata jazz street, Osaka Big River Jazz Festival and many other events.
CD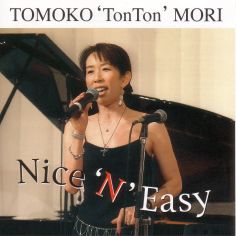 Nice 'N' Easy
Manhattan
Angel Eyes
Just One Of Those Things
Violets For My Furs
So In Love
I Can't Get Started
Let's Do It
I'll Be Seeing You
Come Fly With Me
There's A Small Hotel
ln The Garden
Emiko Tada (piano), Tetsuro Aratama (double bass), Toshio Nakajima (drums)
Price: 2,000yen, a postage is required in addition to this price. A reference about CD: New Suntory 5 2-10-15 Sonezaki Kita-ku, Osaka, 530-0057, Japan (Sonezaki Center BLDG FL5), FAX:+81-6-6314-0267 or send E-mail.
---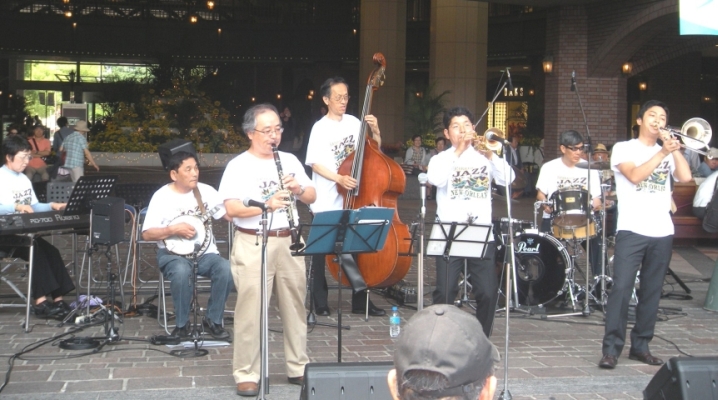 Members

Yuzo Tsutsui

(banjo)

Koji Tokuda

(clarinet)

Koichi Tamura

(trumpet)

Kimie Takegawa

(piano & vocal)

Ken Murahashi

(double bass)

Koji Muro

(drums)

Toru Akisada

(trombone)
---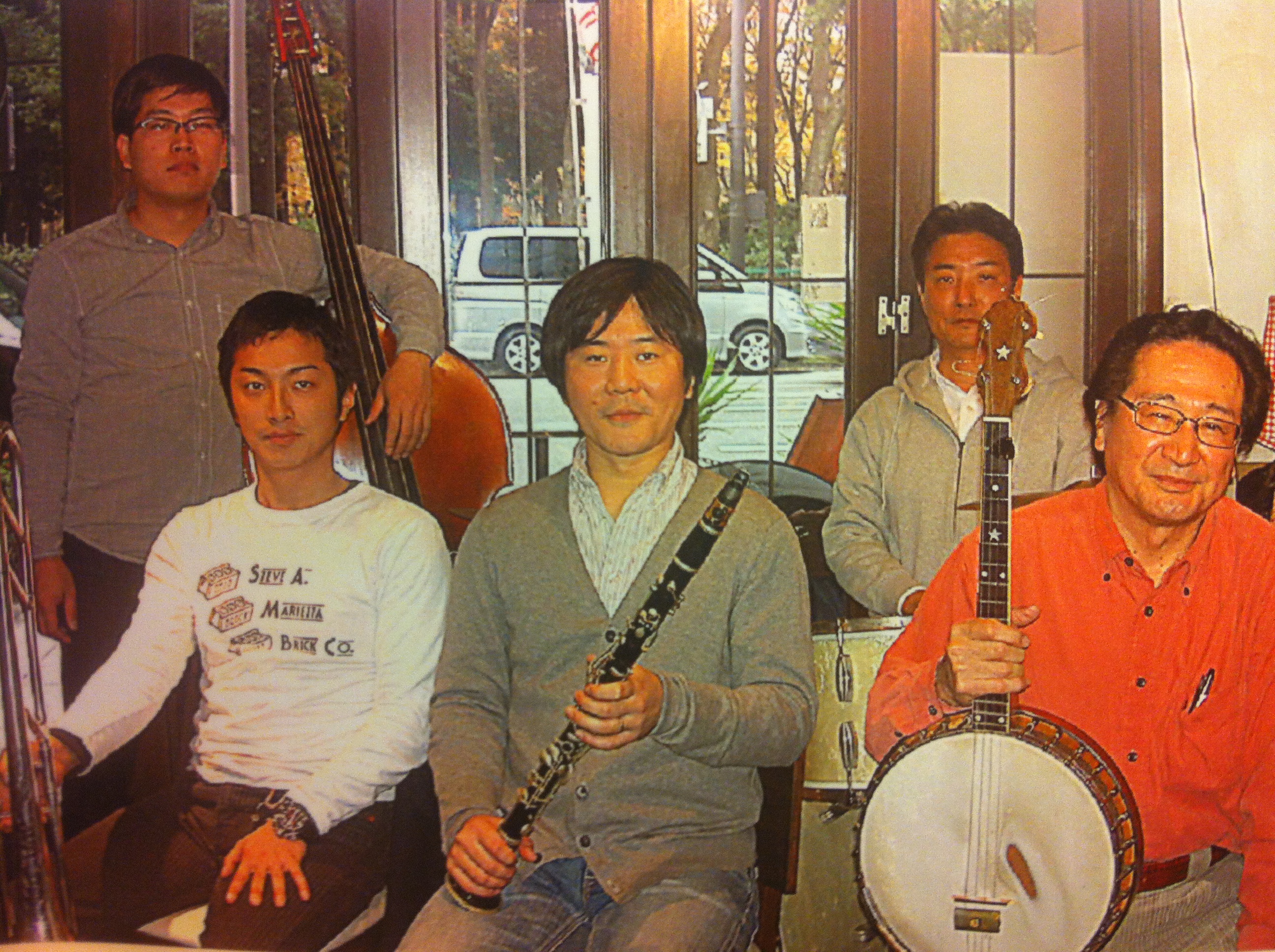 Members

Junichi Kawai

(leader,banjo)

Heisuke Kato

(clarinet)

Soichiro Wakimoto

(double bass)

Toru Akisada

(trombone)

Fumihiro Yanase

(drums)
---